Ok, time for a cool post!
Spray paint transformations!
Yes, that's f
un things you can do with spray paint to transform an object and give it an entirely new look.
Awesome? Of course it is!
First off - are you the type of person who walks right past the old glassware and knickknack figurines at a flea market or at the thrift shop without giving them a second glance? Check out these photos below and I promise you won't ever look at those things the same way again...
This cute dish was made by Morena from plastic & glass dollar store finds and silver spray paint (above and below)
Wood plaques + dollar store figurines + glue + spray paint = awesome
The ever popular spray painted mason jars
This one is a GREAT craft for the kids - first, you spray paint a wreath entirely white, then once it is dry, give the kids some colorful kid-safe acrylic paints and brushes and let them go to town adding color as they please. This is a great way to encourage creativity and teach color coordination. Encourage them to experiment!
Spray painted plates for a wall display
Spray painted black rubber door mat by Salvage Dior
I've seen lots of these old chandeliers redone in many different colors, but I like this red one by justlaine
Before and after Birdbath by Mamaroots. I'd love one in purple or red!
The same goes with garden furniture. Again, love!
Wood pallets spray painted and used as garden planters
Pinecones displayed in a jar. Imagine the color combinations you could create. You could have a set to coordinate with every holiday!
Acorns. I have to admit, I find these blue acorns intriguing.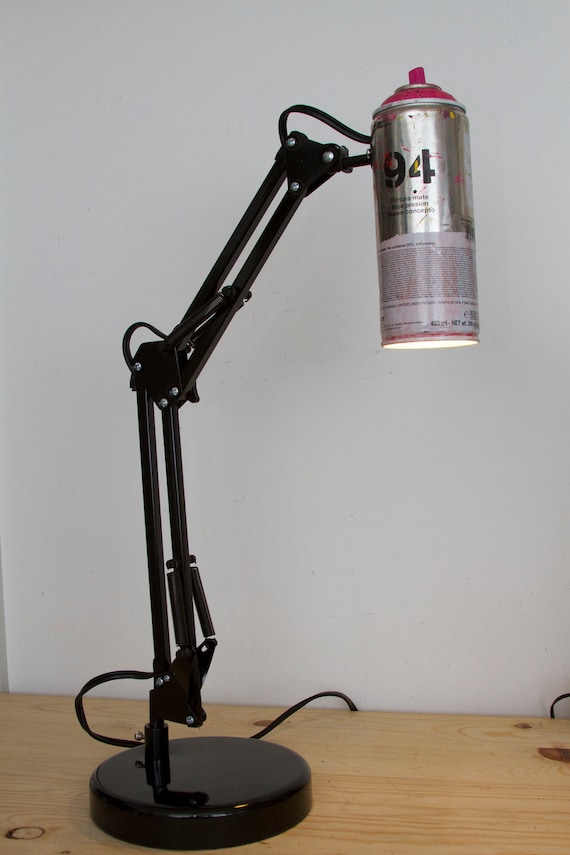 Awesome adjustable spray paint swivel lamp made by Weasel Works via Etsy
Colorful spray painted metal folding chairs
What color would YOU paint this?
How to do it? Click here for some quick tips on how to use spray paint
What do you think?
Have you ever done a spray paint transformation?